01 Cargo Inspection for Items to be delivered to MOD (Ministry of Defence)
KSA International hires MOD veterans and inspect items very precisely, such as quantity, appearance, cosmetic damages and so on with cross-checking with MOD contract documents.
02 Tax Exemption Customs Clearance
Japanese customs has a specialy duty exemption rule for items to be used aircraft, rocket and so on, which KSA International is very familiar with. We contribute our customers to save additional expenses by utilizing this special rule.
03 Application Service
In order for our clients to save time and expenses, KSA International prepares and submits legal documents on their behalf. Applications for import and export license, explosive approval, high-pressure gas approval and so on.
04 KSA Supports at Clients' Office
KSA International has our own employee station at our clients' offices in order to support their logistics arrangement as well as to select best services to match with the clients logistics needs.
05 Special Cargo
Based on our wealth of experience, we offer safe and reliable transportation for freight requiring special expertise to transport, including explosives, chemicals such as paints and adhesives, and frozen freight.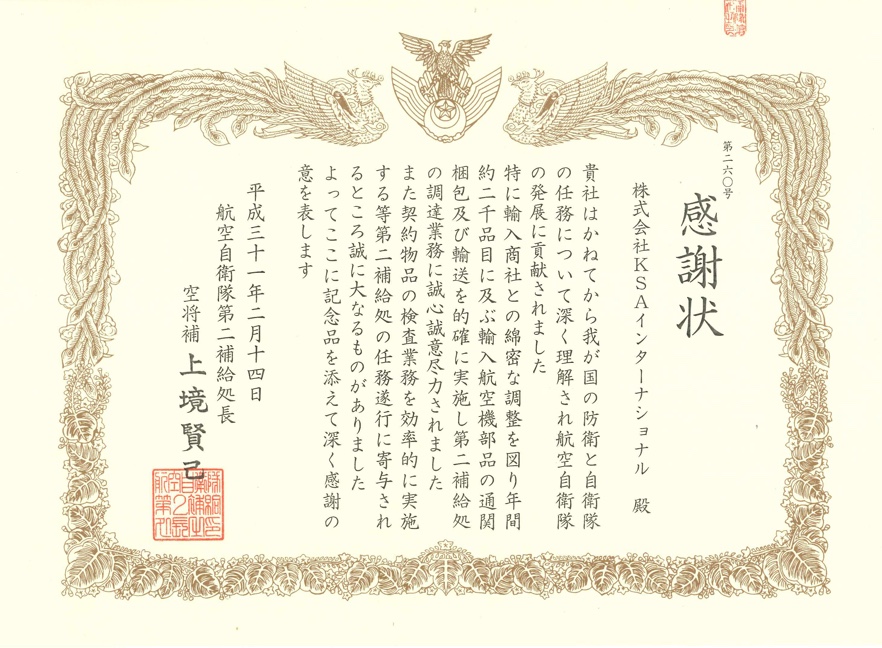 "Certificate of Appreciation" from MOD to KSA International to admire our contributions to MOD.
Previous Projects
Oversize & Overweight Cargo (aircraft, ground support equipment, engines, flaps), structural materials (metal materials, honeycomb cores), hazardous materials (paints, heat pipes, pyrotechnics, high-pressure gas), pre-preg.(frozen), aircraft components (galleys, lavatories, APU, avionics), hardwares (fasteners, engine parts)